At Friendly Animal Hospital in Huntington Beach, CA, we're committed to helping our pet owners and furry friends get the care they need to live long and beautiful lives Grooming is one of the best ways to combine both beauty and health. With pet grooming services, your animal will get the care they need and resolve any skin issues that might be plaguing them. Read on below to see how our pet grooming services in Huntington Beach, CA, can help your pet. A veterinarian on our team is here to help.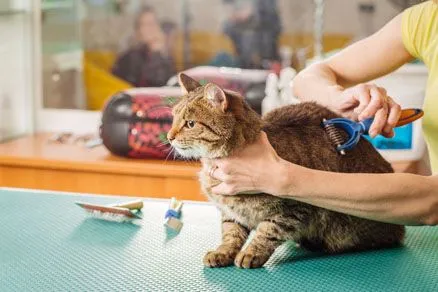 What Is Pet Grooming?
Pet grooming is the practice of cleaning, brushing and trimming your animal's coat, claws, teeth and nails. Regular grooming helps keep your pet's skin healthy and free from parasites such as fleas and ticks. It also helps prevent matting of their fur, keeps their coat soft and shiny, and can help them smell nice too
Why Is Pet Grooming Important?
Pet grooming can be important because it helps keep your pet healthy, clean and happy. Regular brushing can help remove excess fur which could otherwise lead to matting, hairballs or other issues. Trimming their nails regularly can help prevent long nails from causing damage to furniture and rugs in the home. Brushing their teeth is especially important as it helps prevent plaque and tartar build-up, which can lead to tooth decay and even gum disease.
When Should I Bring My Pet for Grooming?
It is recommended that you bring your pet in for grooming when your pet needs it, such as when his nails get too long or his fur is getting to knotted or matter. This will help keep their coat and nails healthy, as well as prevent any skin or health issues from arising. If you notice any changes to your pet's coat such as excessive shedding, matting or bald spots, it is important to bring them in for a grooming as soon as possible. This can help make sure that your pet remains comfortable and may help prevent infections or other issues from arising.
Schedule Your Grooming in Huntington Beach, CA Today
At Friendly Animal Hospital in Huntington Beach, CA, we strive to provide the pet care your furry friends need. We are committed to helping your pet look and feel their best. Contact us today to learn more about our pet grooming services and to make an appointment. Your animal will thank you. Call us at (714) 845-5722 for more information. A veterinarian on our team is here to help.